SARBATORI PASCALE LA HOTEL MAGURA VERDE
Inspirati de frumusetea primaverii si a naturii ce ne inconjoara, Echipa hotelului Magura Verde s-a gandit la toate detaliile pentru a va oferi cele mai frumoase Sarbatori Pascale.
Va asteptam sa petreceti zile minunate alaturi de familie si prieteni intr-un cadru relaxant,rasfatati de gustarile traditionale gandite special pentru voi.
Copiii se vor bucura de un frumos loc de joaca www.locdejoacabacau.ro, tinerii isi pot pune adrenalina la incercare in parcul de aventura www.parcaventurabacau.ro…iar adultii se vor relaxa fiind inconjurati de culorile si linistea primaverii.

Toate acestea numai pentru voi!🐰 🐣
Rezervari si detalii: 0723.262.995
e-mail: maguraverde@yahoo.ro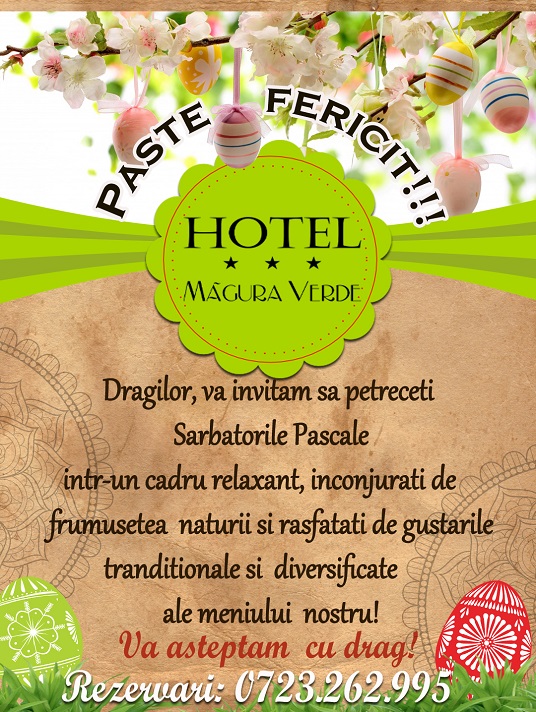 Located in a privileged natural setting, on a plateau surrounded by forests that lie on valleys and hills, Magura Verde Hotel is a benevolent host in any season.
Situated 10 Km from the city of Bacau, on the serpentines of the national European road E574 Bacau-Brasov (DN 11), the hotel was built to offer the warmth, quietness, comfort and privacy desired by the people visiting Bacau or the ones that are on business trips.
Magura Verde Hotel is the perfect choice if you want the best services in a place where you can feel like home. Always with a smile, our personnel will make sure that you have everything you want.